The Nature Conservancy of Canada will be focusing on a major project in 2021 located on Manitoulin Island.
Conservancy president and CEO, Catherine Grenier says the agency is looking to conserve just over 7,600 hectares at Vidal Bay on Manitoulin Island.
She says the largest freshwater island in the world supports some of the highest quality alvar habitat on the planet, interspersed within sandplain forests, wetlands, sand dunes, and the Niagara Escarpment.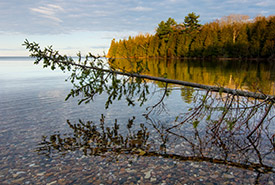 She adds it is also home to wide-ranging mammals, including black bears and gray wolves, and provides an important stopover area for migratory birds.
Grenier says if completed, it will expand the conservancy's protected area to 250 square kilometres, the largest of its kind south of the Canadian shield in Ontario and conserve 86 kilometers of Great Lakes shoreline, more than twice what is currently protected at Bruce Peninsula National Park.